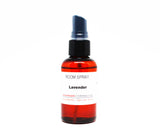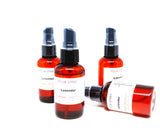 French Lavender Room Sprays
French Lavender room spray is creating fresh floral lavender field aroma and known for stress reduction, relaxation and calming effect.
Pure Palette Scents room sprays are carefully blended in small batches and contains in 2 oz. amber spray bottles and ready to travel with you. French Lavender room sprays are crafted with organic Aloe Vera juice, witch hazel, organic black willow bark extract, essential oils. Hope you enjoy our room sprays as much as we do at our home.