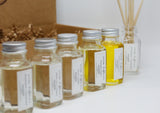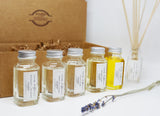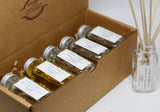 Room Diffuser GIft Set
Room diffuser gift set includes 2 oz.diffuser oil of Citrus Lavender, Eucalyptus + Spearmint, White tea + Ginger, Fig and Vanilla Chai and 8 natural undyed reeds for each fragrances ( a total of 40 reeds.)

Citrus lavender has fresh orange peel scent with a hint of lavender.

Eucalyptus + spearmint is a great winter scent with a smooth eucalyptus and a touch of spearmint as a top note.

White tea + ginger is a blend of floral fragrance, soft with a sharp hint of ginger behind it.

Fig diffuser is scented with fig leaf, green tomato, sage and a top note of sweet honey.

Vanilla Chai is beautiful, warm fragrant of vanilla, sweet orange, cinnamon and oak wood tree. 

HOW IT WORKS...

The natural rattan reed sticks draw the oils up and hit the air. Then the fragrance is gently evaporated into the air. For fast effect, placing the reeds and flipping them over right away, and 2 weeks after, you can flip them over again. Refreshing fragrance will fill up your room for a few months.

CARE...

Reed diffuser is a great replacement to candles. Without flame, reed diffusers is creating a warm aromatic fragrant through out your room. If the reeds get a little dry or you want a little stronger scent, you can simply turn them upside down and a fresh wave of fragrance will travel to the top of the reeds.

RECYCLE...

Recycle clear glass vase and handmade pottery can be used as your flower vase. They are beautiful addition to your room.