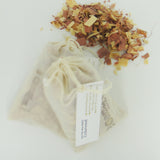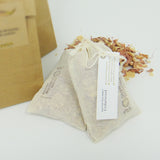 5 Cedarwood (Moth Repellent) Botanical Sachets
Cedarwood is well known to repel moths and other fabric insects. Cedarwood scented sachet protects your wool and fine fabric from moths and other insects. It's great fit in your closet, drawer and your winter clothes storage.

The sachet is carefully crafted with natural corn cob, cedar chips and aged with high scent throw essential oil, packaged in U.S. made muslin cotton sachet (3" x 5").

You will receive 5 sacks of moth repellent.